Welcome to Bernstein's
37th Annual Strategic Decisions Conference


Video Showcase | Live Q&A | Digital Guidebook


Please ensure you are logged into this portal for complete access to conference content.
Confirm this by checking in the top right corner of the page for a 'Log Off' or 'Log On' indication.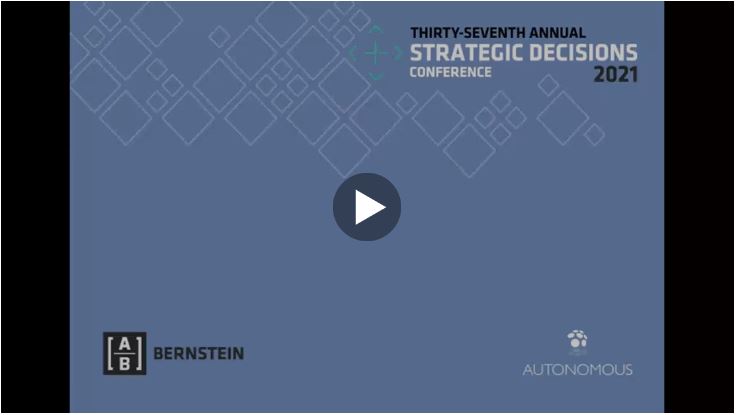 To our clients,


I want to take this opportunity to thank you for registering for Bernstein's 37th annual Strategic Decisions Conference. We have been working hard to make this year's conference every bit as compelling as past years. We have strong participation from more than 170 CEOs and leaders from the largest companies across all sectors of the economy.


We will continue our tradition of hosting fireside chats with Bernstein and Autonomous senior analysts, offering all participants a front-row seat. We will also leverage technology to let you pass questions directly to the moderator, and/or vote on participants' questions to move them to the top of the queue.


We will host hundreds of individual and small group meetings to give you the opportunity to interact directly with participating CEOs and management teams. Real-time insights from CEOs representing so many different parts of the economy should provide a wealth of information for investors as the world reopens. We will also feature several Bernstein analysts, who will bring their industry experience to bear to recommend which companies represent compelling investment opportunities.


In short, I couldn't be more excited about what will be on offer to you during the event and look forward to bringing you another great Strategic Decisions Conference. We recognize that the last year has been challenging, and while we are not out of the pandemic just yet, we are beginning to see the light at the end of the tunnel in many parts of the world. We look forward to welcoming you back to New York, in person for our 2022 Strategic Decisions Conference!






Robert van Brugge
Chairman and CEO